Vertical Split-type boxless Injection automatic molding machine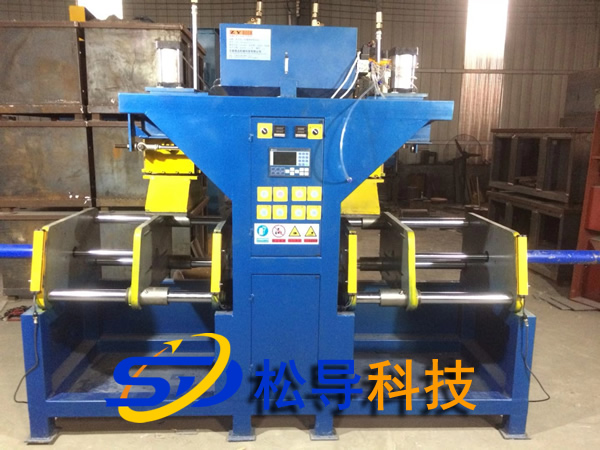 1. Use:
This machine is a vertical type boxless injection molding automatic molding machine. It is suitable for the high-temperature and high-volume production of tidal sand in the core, non-core and small casting of cast iron, cast steel and non-ferrous metal casting industries. It has the advantages of high production efficiency, small footprint, low investment, quick effect, labor saving, energy saving and environmental protection.
2. Main performance characteristics:
2.1 Adopt integrated control technology of machine, electricity, gas and liquid, and purchase internationally. Imported hydraulic, pneumatic and electrical components have improved the speed, accuracy and reliability of the styling machine.
2.2 Human-machine dialogue interface: Various technical parameters can be set, stored and adjusted on the touch screen within the defined scope of use.
2.3 Fault Judgment Function: Through a series of sensing components and computer system, it can diagnose the general fault of the host and display the alarm. At the same time, it can realize the fault identification and the troubleshooting method in the electrical control.
2.4 The equipment has high modeling efficiency, high sand tightness, high precision, no sand box, no pressure iron, less auxiliary equipment, small floor space, low running noise, low labor intensity, and less investment in construction. Fast and other features.
2.5 The bottom support of the positive plate of the machine adopts air cushion structure to ensure accuracy and extend life.
2.6 The cavity bottom plate of the machine adopts the magnetic adsorption double-plate combination structure, and the working surface adopts the imported high-hardness panel, which improves the precision, prolongs the service life, is easy to replace and has low replacement cost.
2.7 The top and side plates of the cavity are treated with special technology to improve the service life.
2.8 Imported non-contact magnetic displacement sensor, reliable, high precision, low failure and long service life.
2.9 The guide column adopts centralized lubrication to prolong the service life of the guide post and improve the modeling accuracy.
2.10 Adopt automatic blowing and automatic spray release liquid system to reduce labor intensity and improve efficiency.
3. Main specifications and technical parameters
3.1 Sand size: (width 〜 height 〜 thickness)
ZZ416ALP: sand size 600 〜 480 〜 (120 ~ 310);
ZZ416BLP: sand size 650 〜 535 〜 (120 ~ 310);
ZZ417ALP: sand size 720 〜 530 〜 (120 ~ 310);
ZZ417BLP: sand size 750 〜 535 〜 (120 ~ 310);
ZZ417CLP: sand size 750 〜 600 〜 (120 ~ 310);
ZZ418ALP: sand size 800〜600〜(120~310);
3.2 Productivity: (type / hour) 300 (type thickness 160 mm)
3.3 Maximum cavity depth: (without template thickness) 430 mm
3.4 Sand pressure: 0.25-0.3 MPa
3.5 Compaction specific pressure: (infinitely adjustable) 0-1.5 MPa
3.6 Average sand hardness: >85
3.7 Forming accuracy: 0.1-0.14 mm
3.8 Noise: <90 dB
3.9 Hydraulic system maximum working pressure: 10-12 MPa
3.10 Compressed air pressure: 0.55-- 0.65 MPa
3.11 sand consumption: 28-60 tons / hour
3.12 Compressed air consumption: 10 cubic meters / minute
3.13 Total motor power: 47.5 kW
3.14 Cooling water flow: 1.5-2.0 tons / min
4. Production line process composition
Vertical boxless injection molding mainframe, synchronous clamping conveyor (or synchronous holding conveyor), synchronous belt cooling machine, falling sand machine, phosphor plate machine, old sanding treatment system and other equipment.