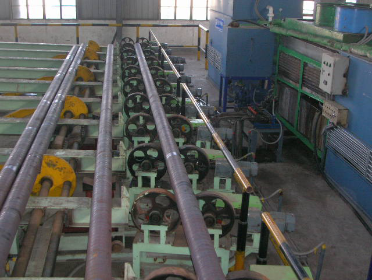 Steel pipe heat treatment production line
The steel pipe heat treatment production line is a steel pipe on-line induction heating device. The equipment system divides the low temperature and high temperature heating into two sections. The whole consists of two sets of 3600KVA12 pulse wave rectifier transformers, four sets of 1500KW/ ( 500 , 1000 ) Hz , medium frequency power supply and four capacitors. The cabinet and 4 sets of sensors are composed. The total total power is 6000KW . temperature The automatic control system consists of an Advantech industrial control computer, a PLC (Siemens S7-300 ), an infrared thermometer, two sets of photoelectric switches and a speed measuring device.
The on-line induction heating system of the steel pipe has the characteristics of stability, reliability, precise control and complete protection functions. It can accurately control the temperature of the heated steel pipe to ensure that the temperature and temperature difference of the heated steel pipe reach the required temperature range (\ 10 <C). .
On-line induction heating of steel pipe has a good man-machine interface, which can control the parameters such as temperature and speed of the running steel pipe; display the parameters such as frequency, power, temperature and speed of heating of the steel pipe; temperature rise and power supply of the steel pipe The power distribution is set, etc.; various parameters of the steel pipe such as temperature, speed, steel pipe diameter, wall thickness, batch number and other parameters are recorded and sent to the management level periodically.
One. Steel pipe online induction heating process parameters
1 . Heating steel pipe specifications
Diameter: φ 108
Wall thickness: 5
Length: 25000
2 . Steel pipe material: carbon steel, alloy steel
3 . Single steel pipe Z large weight: 315Kg , weight per meter: 12.62 Kg/m
4 . Steel pipe through induction furnace speed: 30 m / min
5 . Steel pipe heating temperature: room temperature
6 . Steel pipe heating temperature: 1000 <C
7 . Temperature control accuracy of heated steel pipe: \ 10 <C
8 . After heating, the temperature between the head and tail of the steel pipe is different from the temperature in the middle of the steel pipe: \ 10 <C
two. Overall configuration of steel tube heating
1. Steel pipe online heating equipment configuration
Pipe diameter before heating given line, through combined use of an induction furnace, is provided to four of segments, each segment comprising a combination of a medium frequency power source, a capacitor bank, each low-temperature heating using two sensors, each using a high temperature heating There are 3 sensors, and there is a transport roller between the sensors to make the steel pipe run at a certain speed. The system power supply with two 12-pulse rectifier transformer. The whole set of equipment is controlled by a computer control system to meet the heating requirements of steel pipes. Four power cooling systems use four feng shui coolers.
2. Pulsed rapid induction heating process
The so-called pulsed rapid induction heating refers to the heating of the steel pipe through 10 short-time high-power density, and the purpose of reducing the temperature difference by heat preservation and uniform temperature, so as to overcome the thermal stress caused microscopic crack to some extent. Danger.
This method is suitable for online continuous heating and is a very advanced heating method in the world.
three, Steel pipe online induction heating main electrical parameters
1 . Rectifier transformer (the following parameters are used as reference for the purchase and purchase of the supplier)
Complete equipment selection of rectifier transformer 3600KVA 2, each 12-pulse rectifier transformer structure, each of a medium frequency power output termination. The main parameters are as follows:
Rated capacity: Sn=3600KVA
Primary voltage: U1=10KV 3 φ 50Hz
Secondary voltage: U2=660V , 660V ;
Connection group: d/d0, Y11
effect Rate: η− 98%
Cooling method: oil immersed from cold
Protection function: heavy gas trip, light gas trip, pressure release brake, oil over temperature alarm
\ 5% on the high pressure side , 0% third gear
2 . Main frequency power supply parameters
Input voltage: 660V
DC voltage: 890V
DC current: 1685A
IF voltage: 1300V
IF frequency: 1000Hz \ 10% and 500Hz \ 10%
IF power: 1500KW / each
3 . Capacitor cabinet parameters
1000Hz and 500Hz capacitors
type No.: RFM2 1.2 ! 2000 ! 1.0(0.5)S