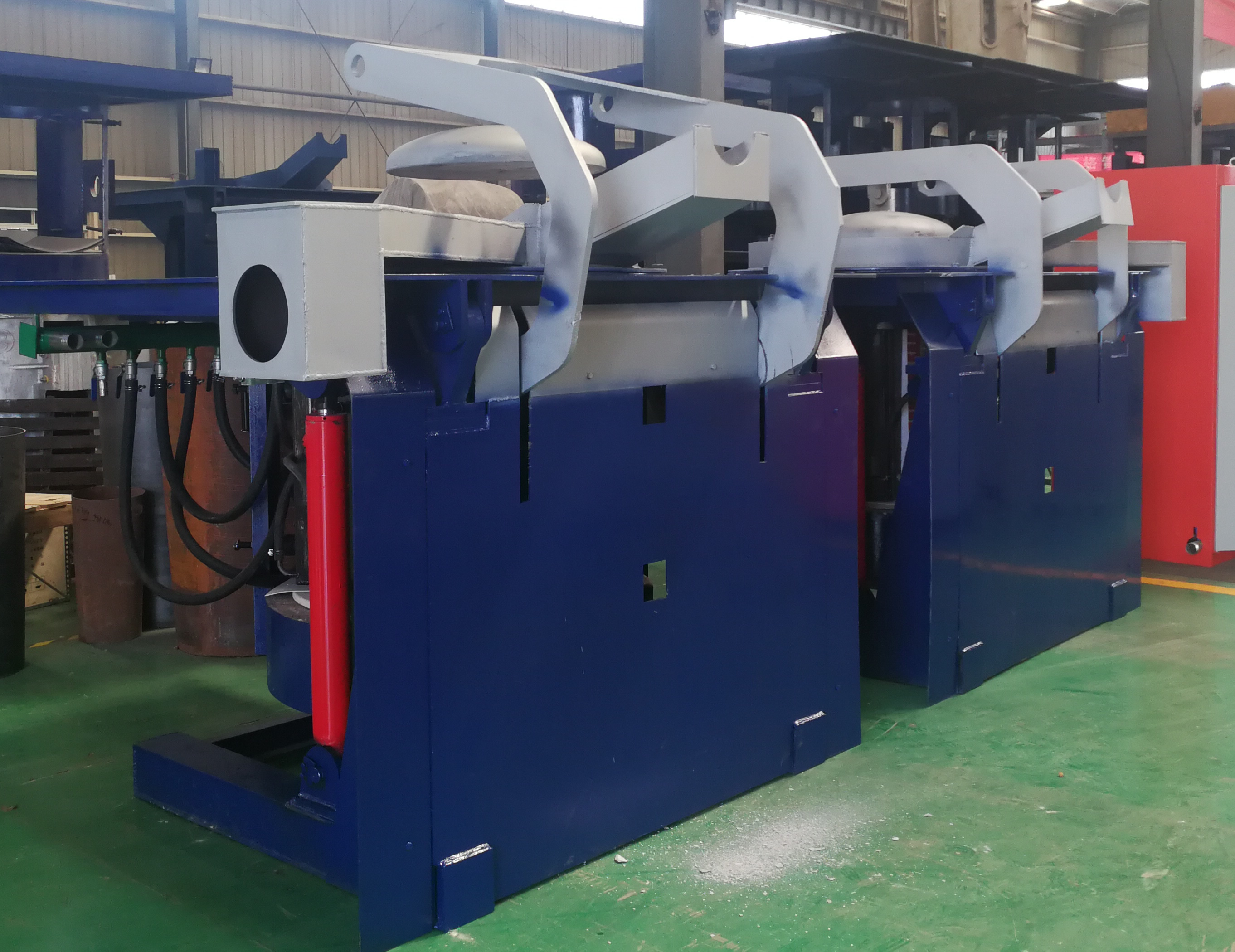 First, the melting furnace type:
The melting furnace is a power-saving product, advanced technology, precise and reliable control, mature manufacturing process, safe and stable operation, perfect protection system, reasonable layout, convenient management and maintenance. It has the characteristics of fast melting speed , low energy consumption and stable and reliable operation.
Second, the melting furnace composition range:
Medium frequency power supply ¡ú capacitor cabinet ¡ú furnace body (steel shell or aluminum shell furnace body) ¡ú tilting furnace system ¡ú remote control box ¡ú closed loop cooling tower
The melting furnace has protection systems such as overvoltage, overcurrent, water temperature, water pressure, short circuit, grounding, etc. The operation panel has various parameters of the working parameter display screen and the display working state, and there are indications such as fault and temperature.
Third, 2T melting furnace technical parameters
power supply

Working form: single power supply 6 pulses or dual power supply 12 pulses

Rectified form: 3- phase 6- pulse or 6- phase 12- pulse

Output power: 1000 KW or 1800 KW , different power prices.

Power efficiency ¡Ý98%

Start mode: sweep soft start

Startup rate: 100% (including heavy load)

Rated frequency: 500KHZ-1000KHZ

AC voltage: 400 V , 575v, 660v

DC voltage: 500V, 776V, 900V, 1350v

IF voltage: 1500V, 2400V, 2700V

DC current: 2000 A

Input frequency: 50Hz

Circulating water volume: integrated layered water cooling tower ZXZ-120T (40/80)

Furnace body

Rated capacity: 2 000KG

Maximum capacity: 2 300KG

Power factor: ¡Ý 0.9 2

Melting time : about 60 minutes / furnace

Working temperature: 155 0¡ãC -170 0¡ãC

Loading diameter: 620 mm (upper mouth) inner diameter of the ring: 820mm copper ring of the furnace is 30x50x6mm

Steel: turndown maximum angle: 95 ¡ã Aluminum Shell: turndown maximum angle: 180 ¡ã

Outlet mode: side outlet or rear outlet

Circulating water volume: integrated layered water cooling tower ZXZ-120T (40/80)

Tilting method: aluminum shell 631 reducer, steel shellhydraulic

Unit power consumption: ¡Ü 60 0 degrees / T ¡À 5% 1550 ¡ã C

transformer

Rated capacity: 1250 KVA

Primary voltage: 10KV

Secondary voltage: 400 V , 575, 660v

One phase: 3 phase

Secondary phase number: /3 phase 6 pulse , 6 phase 12 pulse

Output form: three ¡÷ three Y

Cooling water

system

One-piece layered water cooling tower ZXZ- 120 T(40/ 80 )

Cooling capacity : 6 00000 kcal / h Cooling water volume :120 m3/h Fan power : 1.1 KW ¡Á 4 units Fan air volume 16800 m3/h ¡Á 4 spray pump 120m3/h; 4.4 kw

Dimensions mm 32 00¡Á 178 0¡Á3490 (one size)
Fourth , the melting furnace configuration table
| | | | |
| --- | --- | --- | --- |
| Serial number | Name | Quantity | Remarks |
| 1 | IF power cabinet | 1 set | |
| 2 | Furnace body | 1 set | Steel shell, yoke, |
| 3 | Hydraulic system or reducer | 1 set | Hydraulic power station |
| 4 | External console | 1 set | External control power adjustment for tilting furnace |
| 5 | Water cooled cable | 1 set | 2 roots |
| 6 | Model | 1 | ¡Ý 3 mm steel plate |
| 7 | Rectifier transformer | 1 set | Optional |
| 8 | PLC automatic control display system | 1 set | Optional |
| 9 | Closed loop cooling tower | 1 set | Optional |
| 10 | Rectifier thyristor | 2 sets | spare |
| 11 | Inverter thyristor | 2 sets | spare |